Using Offline Files over a VPN Connection
When using a Windows computer away from the office it is good practise to deploy a Virtual Private Network (VPN) to create a secure connection back into the office so that file and print resources can be accessed. Users who regularly travel away from the office potentially also need access to one or more of their files even when an Internet connection is not available. The Microsoft Windows feature known as Offline Files provides this functionality.
Once Offline Files has been configured Windows periodically checks its connectivity to the server to determine whether to use the locally cached files or open them directly. This check is first carried out at logon. As the VPN connection is often not started until after logon, it is normal for a Windows computer used outside of the office to initially be in Offline Mode. Although connectivity should be regularly re-test automatically by Windows, there may be situations where you would like to work on the server copies of documents immediately.
This article describes how to switch Offline Files back into Online Mode to allow full access to all resource on the company network that would normally be available whilst in the office.
Supported Releases
Tested on Windows 7 Professional Service Pack 1 but should operate the same on all Windows 7 Professional, Enterprise and Ultimate editions.
Configuration
Log onto your PC using your normal company account.
Before making a a VPN connection we recommend that you test your Internet connectivity by visiting a regularly updated site. Our favourite is BBC News, although a Google search would work just fine too. If necessary, connect to a Wi-Fi network or agree to the terms and conditions of the network you are using to ensure your Internet connection is operational.
Follow the instructions provided by your organisation to start a VPN connection, which will normally involve providing some credentials (username, password, certificate, etc.) to verify your identity.
Using Windows Explorer (usually shown as a yellow folder icon on the Windows taskbar at the bottom of the screen), navigate to the network location you would like to access: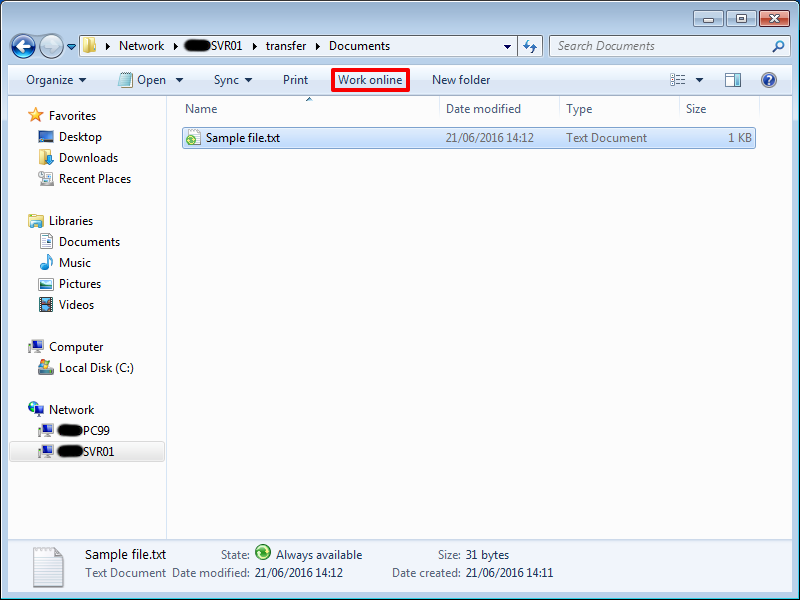 If the button (highlighted in red above) on the Windows Explorer toolbar reads Work online then your computer is currently in Offline Mode. Clicking on the button will switch to Online Mode and provide you will full access to all network resources.
See Also