Fixing Microsoft Office Starter Edition Set-up Loop
On occasions the set-up, known as Out Of Box Experience (OOBE), for Microsoft Office Starter Edition can become corrupt for some user accounts on a machine. Whenever you start Word or Excel you will be prompted for your name and initials and then the set-up will begin with the following license agreement: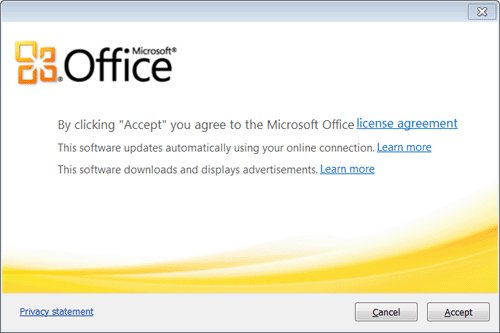 You will be able to progress through the set-up dialogue boxes and complete them, allowing you to use the Office product. However, once you close the product and try to run either the same or another Office Starter product you will be prompted to run set-up again. This will occur every time you launch an Office Starter product.
Logging into the PC with a newly created user account (or an account that has previously never logged on to the current machine) will allow the Office Starter set-up to complete successfully. Subsequent use of the product will not re-run the set-up.
This article describes how to remove the broken files, allowing products to be launched from Office Starter Edition without set-up running every time.
Supported Releases
Tested on Windows 7 with Microsoft Office 2010 Starter Edition.
Configuration
Log into the account you need to fix on your PC.
This procedure will need to be carried out for each user account that exhibits the set-up loop behaviour.
Carry out the following actions:
Ensure that neither Word or Excel Starter Editions are running

Click the Start button and in the search box type %appdata%, then press ENTER

When the Windows Explorer window opens, press Backspace once to display the Local, LocalLow and Roaming folders

In turn, navigate to the following folders and delete them:

%appdata%\Local\Microsoft\Office

%appdata%\Local\SoftGrid Client

%appdata%\LocalLow\Microsoft\OfficeStarter

%appdata%\Roaming\Microsoft\Office

%appdata%\Roaming\SoftGrid Client

Restart the PC
Once the PC has restarted, log back into the user account you just modified. Launch an Office Starter Edition product and the set-up will run. Complete this and close the product.
Test that the next time you launch a Microsoft Office Starter Edition product the set-up no longer runs and the application starts normally.
See Also